"Don't let small Countries like Zimbabwe Shame Kenya" Raila's message to Harambee Stars
The return of Kenya's Harambee Stars to Africa's greatest Football extravaganza continues to create a buzz among Football lovers in the Country.
From the rich to the poor, Harambee Stars' AFCON Participation has brought Kenyans together with many of them wishing the team well ahead of their continental duties that kick off on Sunday against Algeria at the June 30 Stadium in Cairo, Egypt.
The Kenyan Government has been so supportive to the National team with funds to spearhead preparations released on time.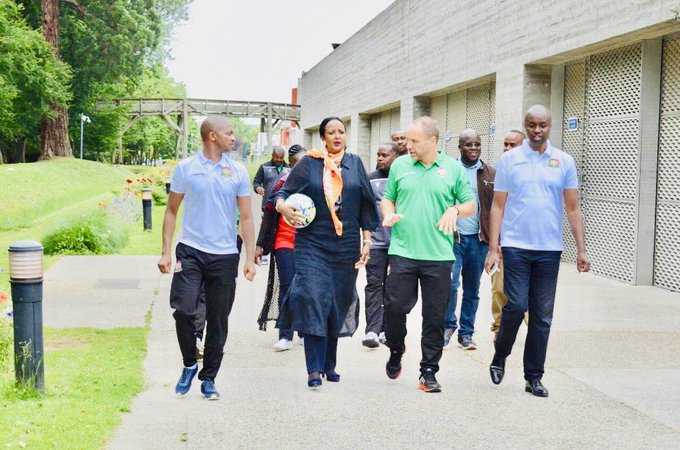 Government officials led by Sports CS Amina Mohammed have also been with the team through thick and thin and have even been monitoring the training sessions. We all remember that Amina visited the team's training base in Paris, France.
Wednesday was the turn of AU High Envoy for Infrastructure Raila Odinga. The former Prime Minister visited the Harambee Stars' training base in Egypt and interacted with the players.
He challeged the boys to put up a good show in Egypt.
He also promised to stay and watch their opening Group C match against Algeria on Sunday.
Odinga called on the team to step up to the Big ocassion and make the Nation Proud.
"You are among the best players in the World, don't let small countries like Zimbabwe to shame Kenya" Said Odinga.
He also revealed that President Kenyatta gave him a special assignment in the Arab Nation.
"The President (Uhuru Kenyatta) has requested me to stay here until you play first match and if you qualify to finals, he will come.
"We are very impressed that you have had a good training session away in France and this should motivate you to give Kenyans the result they want. I know you are capable of doing Kenyans proud and I will be there to watch you against Algeria."
Kenya is pooled in Group C against Algeria, Senegal and Fellow East Africans Tanzania.
The team is upbeat that they will produce the desired results in Egypt and make history in the process.